They're an excellent tool for communicating information with event attendees from pre-event, during an event and post event.
With push notifications, you have the flexibility to send a target message to everyone, selected groups or an individual.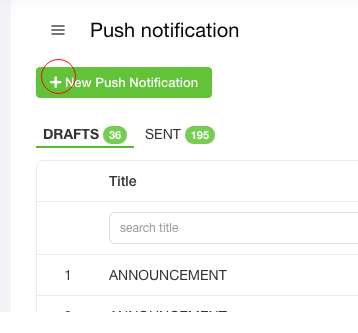 Some ideas of how to push notifications that can be sent before the event:
Reminders: Time, event place, guest speakers, schedule, pick up location, meals, etc.
Announcements: Last minute changes.
During the Event:
Changes: Changes in schedule, dining location, last minute announcements etc.
Audience Engagement: send reminders to encourage the audience to partake in live polling, discussion, quiz etc.
After the Event:
Acknowledgement: Thank the attendees, sponsors, exhibitors, speakers etc for the successful event.
Post Event Survey & Feedback: Understand from the attendees their thoughts and opinions about what they enjoyed from the event.
Channelize and drive the attendees towards taking the suggested actions by linking our in-app push notifications to the desired landing page.
Make your Push Notification A Call-To-Action, from the drop down box, link it to:
None
URL
Pages
Profiles
Schedule
Quizzes
Feedback forms
Documents
Exhibitor
FloorPlan
Discussion
Photo Gallery
Recipients:
Decide who should see the push notification message.
When should we send this notification?
Determine if you would like the notification to be sent out immediately, at a scheduled time (during the event duration), or save it as a draft (save for later).
Lastly, conclude it with:
Show on user's feed: Check the box.
Pin to top: Tick this box if you would like this particular message to be of the foremost priority.
Some content variation examples of how push notifications can be utilised: